DETROIT—A wheelchair blockade is not something you see everyday, but on Monday that's precisely what took place at an intersection in northwest Detroit.
Activists with the disability rights group Warriors on Wheels halted traffic in one direction for about a half hour that afternoon at an overpass located at Southfield Freeway and Outer Drive.
While several wheelchair users blocked the roadway with barrels and their bodies, a crowd of about 20 supporters chanted slogans demanding better access across the intersection. Police showed up not long after the demonstration began, around 3 p.m., but there were no arrests.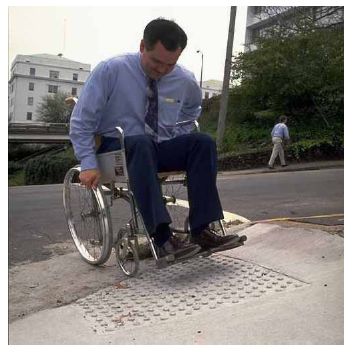 The action served to dramatize the frustration many wheelchair users experience trying to get across the overpass. Protesters say it's difficult to get across safely due to a lack of curb cuts.
That's a name given to ramps that are built into walkways to allow easy access by people using wheeled transportation like wheelchair and scooter riders, cyclists and stroller users.
The Southfield/Outer Drive intersection has curb cuts on the sidewalk across the street from the bridge's walkway, but not on the overpass itself.
Cynthia Casey, a 47-year-old member of Warriors on Wheels who lives in the area, told Mode Shift of her difficulties with the intersection.
"I have found that I have to go all the way around the block just to get to one side," she said. "The sidewalks have been basically terrible. We can not go up 'em or down 'em. We can not travel past them."
She adds that many of the local sidewalks are in disrepair and difficult for wheelchair users to traverse.
Charles Stedman, a Wayne State student who belongs to the group, echoed Casey's concerns.
"My godfather's in a wheelchair -- legally blind. He has to travel down the street with his cane," he said. "Nine times out of ten, I'm with him. But on that off chance I'm not, I have to worry whether or not he's going to get himself hit or killed."
Fears about the overpass aren't unwarranted. A student was hit and injured while crossing the intersection in 2010, according to data from the Southeast Michigan Council of Governments.
Though it wasn't a fatal accident, the victim did go to the hospital for his injuries.
Lisa Franklin, president of the Metro Detroit Warriors on Wheels group and a board member with Southeast Michigan's Regional Transit Authority, is the one who called for the rally.
"We really want this done, because it's an accident waiting to happen," she told Mode Shift. "We've got this senior building here with seniors and people with disabilities here in this high-rise. We've got a grocery store, a medical center, a school where people vote."
Activists have been trying to get curb cuts installed for about 25 years, according to Franklin. She used to think the hold-up was because the intersection falls into three different jurisdictions: Wayne County owns the roads, the state owns the highway and Detroit owns the residential and commercial side of the street.
"We thought it was maybe because nobody wanted to take ownership of who's going to do what, but there's laws in place," she said. "MDOT has responsibility to do this bridge."
Franklin said that the curb cuts are covered under the Americans with Disabilities act. Michigan's Complete Streets law also mandates that "roadways [be] planned, designed, and constructed to provide appropriate access to all legal users ... whether by car, truck, transit, assistive device, foot or bicycle."
Maria Silver, associate region engineer with Operations for the Michigan Department of Transportation told Mode Shift that the construction of the overpass and walkway predates that legislation, though it's now required by law.
She said her agency has been in contact with Warriors On Wheels, that their input has been "helpful," and that curb cuts are in the process of being designed.
MDOT estimates the cost of renovating the walkways at $250,000.
"This cost is higher than typical curb cuts because the configuration of the bridge structure is somewhat unique," Silver said. "The bridge deck is supported directly by the bridge beams at the location of the planned curb cuts, so structural modification is required to implement the change."
The agency has already allocated funding for the design and construction of the project, and hopes to begin the bidding process in May. A timetable for the project is still being developed.
"MDOT is working to be responsive to this complaint and working to implement a reasonable accommodation, " Silver said.  "The timeframe is longer than all of us would like, but there has been good progress in reviewing the situation as we all work to find a solution, gaining approvals, allocating funding, and initiating design."
Franklin is skeptical of MDOT's explanation about the bridge's structure, calling it "rhetoric."
"There's so many laws in place that we don't understand why it has not been done," she said.
The disability rights advocate promises that Monday's wheelchair blockade action won't be the last people hear of the group.
Noting that people with disabilities in Detroit are "grossly underserved," she said Warriors on Wheels is fighting to create an Office of Disability Concerns for the city administration.
"We've got to have somebody sitting downtown that can handle our issues as they arise, make sure laws are not broken, ADA is covered [and] make sure the city is compliant," she said. "That's our ultimate goal."
Are there placed in your neighborhood that need curb cuts? Tell us about them in the comments below and we'll pass the word on the your local DOT.